Geotechnical Investigations
IDE completes full geotechnical investigations when evaluating a site, which includes subsurface explorations, laboratory testing, and geotechnical analysis. IDE engineers have over 40 years of experience performing geotechnical investigations on a variety of subsurface conditions. All geotechnical investigations are developed to meet the specific needs of the client and to accommodate the existing site conditions. Subsurface materials are identified in the field, and representative samples are returned to IDE's geotechnical laboratory for testing and evaluation. Using the results of the field and laboratory testing, IDE geotechnical engineers prepare reports that provide clients with detailed recommendations for the site development process. IDE geotechnical investigations are managed by registered Professional Engineers to ensure the highest level of quality and efficiency.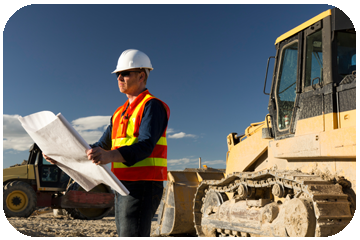 Subsurface Explorations and Observations
IDE investigates existing site conditions through a variety of means with test pit explorations or most commonly, Standard Penetration Test (SPT) borings . Cone penetration testing is also completed when required. Subsurface materials are identified in the field during the explorations and all site conditions and observations are recorded. Thorough subsurface explorations and detailed site observations are integral to the completion of IDE's geotechnical investigation and directly affect the selected laboratory testing program and the required geotechnical analysis and recommendations.
Laboratory Testing
IDE has an in-house geotechnical laboratory that allows our engineers to conduct testing and soil classification to evaluate the physical properties of the soils at project sites. The laboratory provides geotechnical performance, conformance, and pre-qualification testing on soils, aggregates, and soil-aggregate combinations. IDE's soil testing capabilities include:
Index Testing (Plasticity, Gradation, Moisture, Organic Content, Unit Weight, pH and Resistivity, Specific Gravity) for Soil and Rock Classification (As Per USCS)
Moisture-Density Relationship Testing (Standard And Modified Proctor)
Strength Testing (Unconfined Compression, Drained and Un-Drained Triaxial Strength Testing)
Permeability Testing
Compressibility Testing (Consolidation, Swell Potential)
IDE's laboratory technicians follow generally accepted practices and procedures, as published by the American Society for Testing and Materials (ASTM).
Geotechnical Reports
IDE presents the results of all subsurface explorations, laboratory testing, and geotechnical analysis in a report that provides the client with detailed recommendations for the site development process. Consideration is typically given to such items as existing site surface, subsurface, and groundwater conditions prior to making recommendations for foundation system type(s) and design parameters, fill placement criteria, slope stability considerations, and slab-on-grade and pavement design and construction. Additionally, potential difficulties and construction concerns are also identified, including soil swell potential, settlement concerns, and winter and wet weather construction considerations. All IDE geotechnical reports are site specific and prepared and reviewed by registered Professional Engineers.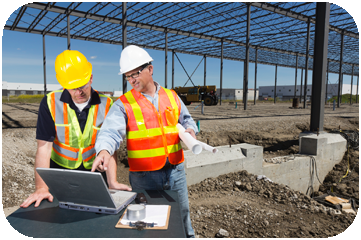 Foundation Analysis and Design
IDE engineers provide clients with the most reasonable, cost-effective foundation system to support their proposed construction, based on the encountered site subgrade conditions. The existing soil properties, proposed site grading, anticipated loads, and size and shape of the proposed construction are all considered when formulating foundation design recommendations. IDE has experience with all types of foundation systems, as well as ground improvement and ground modification systems, to provide clients with the best possible foundation options.
Stability Analysis
IDE engineers have experience handling all manner of slope stability conditions, and are capable of providing detailed analysis for both existing and proposed slopes. Proper stability analysis is critical in site development and IDE engineers can evaluate proposed slope conditions to avoid costly failures and repairs. IDE can also evaluate existing slope conditions to determine whether a site is stable, and can provide cost-effective recommendations and solutions for any repair or remediation that may be required. IDE engineers utilize the latest computer software to accurately model the slope conditions and provide the highest quality results and analysis.
Seepage Analysis
IDE engineers can provide quality analysis with regard to groundwater seepage to prevent and/or relieve potential problems associated with uncontrolled seepage. Uncontrolled seepage in subgrade soils decreases the soil's strength and stability and can lead to piping, liquefaction, and uneven settlement in a structure. It also increases hydrostatic pressure behind retaining and below-grade walls that may not have been accounted for in the wall's design. Using the results of field observations, subsurface explorations, and laboratory tests, IDE engineers can provide clear seepage analysis and recommend cost-effective solutions to alleviate any concerns.
Foundation Evaluation
IDE engineers or senior engineering technicians will visit the project site to observe and assess the condition of foundation bearing surface materials. Typically, this phase of the work is a follow-up to the geotechnical exploration; however, on smaller projects, a foundation evaluation may be performed without a preceding geotechnical evaluation. In this case, various means are used to assess the subsurface conditions in the field, including hand-augers, hand-driven sampling devices, test pits, as well as a variety of hand-operated soil strength measurement devices. Site conditions are documented, and where appropriate, recommendations are given for appropriate corrective measures to be implemented where unsuitable or unfavorable site conditions are noted.