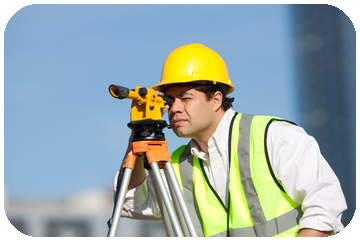 IDE has three licensed surveyors on staff with a combined 120 years of experience in planning, design, and land surveying projects. Team personnel have worked closely with government agencies in providing cost effective projects. IDE uses AutoCAD/Land Development 2007 software to generate plans and profiles, as well as project plan documents.
IDE is committed to value engineering and will design projects to minimize cost where feasible. Clients can feel confident that IDE's in-house team will complete projects within the stipulated time frame and with the expertise necessary to deliver services in an efficient, cost effective and technically innovative, sound manner.
Boundary Surveys
IDE's Professional Surveyors can mobilize three separate survey crews at any given time. All members of the Surveying Services group are proficient in document research. During the research phase of any boundary survey, IDE's staff will visit the county Auditor's/Clerk's Office and obtain the names of property owners as well as all adjoining property owners. Tax maps are acquired for field reference and to assist in boundary resolution. Copies of deeds, plats of survey and subdivision plats are obtained from the county Recorder's Office. If the property is located on a state or federal highway, copies of highway drawings are requested from the state's Department of Transportation.
ALTA Surveys
IDE routinely creates ALTA/ACSM Land Title Surveys (a.k.a. ALTA Surveys) for a variety of clients, title insurance agencies and lending institutions. IDE's staff is very familiar with the minimum standards for such surveys as adopted by the American Land Title Association and the American Congress on Surveying and Mapping.
To perform these surveys, IDE uses state-of-the-art robotic total stations and data collection systems to acquire the necessary locations. This field-collected data is combined with easement locations taken from the title policy, the zoning classification of the property and flood plain information obtained from the Flood Insurance Rate Maps issued by FEMA, and drafted into a comprehensive drawing.
The boundary line of the subject property will also be shown on the ALTA drawing and will be based upon a survey that meets or exceeds the state's minimum standards for boundary surveys.
Topographic Surveys
IDE uses state-of-the-art GPS, total stations, and data collection systems to collect topographic data in an electronic format. Field located utility structures and appurtenances are cross-referenced with available utility records. This field-collected data is loaded directly into AutoCAD Land Development Desktop software where maps are compiled.
Construction Staking
IDE uses a system for construction layout that is truly unique in today's industry. Electronic staking plans complete with coordinates and elevations are made for the computer version of the construction drawings and then uploaded into a data control module (basically a hand held computer). If a data control module is used, typically it is connected to the total station. IDE uses a completely robotic total station. Instead of the control module being connected directly to the total station, it is connected via telemetry. A two-way radio built into the side of the robotic total station communicates with a two-way radio connected to the data control module. The total station is then controlled from the data control module. This procedure allows both members of the survey crew to work together, away from the instrument. Once the stake is in the ground, a second shot is taken providing a grade to the proposed elevation. Each point is visited only once.
This system improves the crew's production by 25-30%. Over the course of a typical construction project, this amounts to a sizable cost and time savings.